Instruction

Riding is a pleasure which can be enjoyed by children and adults alike. It's never too late to begin. At Kells Equestrian Centre we accommodate all levels of competence.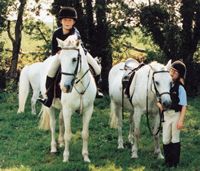 We will teach you, as a beginner, the essentials of horsemanship, from riding skills to basic handling and care of the horse.

More experienced pupils can benefit from expert tuition in advanced aspects of jumping, schooling and equine management.